Software Solutions
Having technology on your machine is one thing, having the ability to connect all your machines and their data together and access all this information – onsite or back in the office – is what will really make your project successful.
SITECH® offers a whole range of software which will enable you to have this connectivity for your site.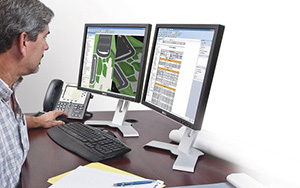 Trimble Business Center - HCE
---
Powerful tools help you create accurate, integrated 3D models for sites and highways quickly and easily. Make better decisions, decrease costly mistakes, and increase efficiency in the office and on the job site.
Quantm Alignment Planning System
---
Plan a new high speed, freight, or passenger rail project, or a new highway project, more rapidly with lower construction costs. Trimble supports you with the most advanced alignment planning solutions in the industry.
Trimble Inspection Solutions
---
Inspect your equipment, assets and machines in real-time using your smartphone or tablet. Visually inspect assets, store inspection data and create reports quickly and easily with Trimble Inspection Solutions. These paperless software solutions take the guesswork out of asset maintenance and put the control in the hands of the equipment manager to increase equipment uptime and decrease costs.
Trimble Contractor
---

Buried in paperwork? Get rid of the hassle and start using Trimble Contractor for your construction business. Our Trimble Contractor app helps you automate processes and manage your business more effectively — from the field. It's an affordable and easy way to manage common office tasks on a smartphone or tablet. And best of all, the data can be exported into your current accounting software.